Top 11 Rated Financial Advisory Firm in Minneapolis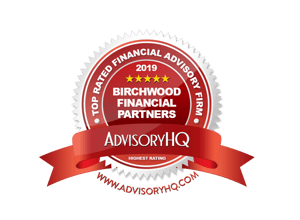 Birchwood Financial Partners was ranked in 2019 among the "Top 11 Financial Advisory Firms in Minneapolis, St. Paul and Edina." Advisory HQ News is one of the fastest growing review and ranking media for the financial advisory sector. To read the full article click here.
AdvisoryHQ Methodolgy for Selecting Top Advisors
To learn more about AdvisoryHQ visit advisoryhq.com.
---
Five Star Professional Award
Birchwood's Leadership team comprised of Kay Kramer, Dana Brewer, Bridget Handke, Damian Winther and Steve Dixon were all awarded with the 2019 Five Star Professional award.
Award candidates are identified by one of three sources: firm nomination, peer nomination, or pre-qualification. Self-nominations are not accepted1.
Five Star Professional conducts research to help consumers with the important decision of selecting a service professional. The Five Star award is presented to wealth managers, real estate agents, mortgage professionals, home/auto insurance professionals and dentists in more than 45 markets in the U.S. and Canada. The Five Star award recognizes service professionals who provide quality services to their clients.
1Five Star Professional Program Summary and Research Methodology
To learn more about Five Star Professional visit fivestarprofessional.com.